Our program is based on our residents' hobbies and interests and includes both group and one-to-one activities.
We also work collaboratively with other community groups to deliver fun and engaging activities for our residents, including "Moving and Grooving" on Mondays morning during school term, where we host a local playgroup and residents enjoy joining in activities with children.
Regular activities include:
Bingo
Book Reading
Chapel (Wednesday mornings)
Afternoon tea with Pastor
Craft
Singing
Pamper time
Exercises
Happy Hour
Songs of Praise
Trivia
Kaesler Cafe
We also plan a wide range of other special activities and are often privileged to host a wide range of special guests.
Volunteers also play an important role in the delivery of our Leisure and Lifestyle program with members of our community sharing their special talents, such as singing, piano playing, cooking, gardening etc.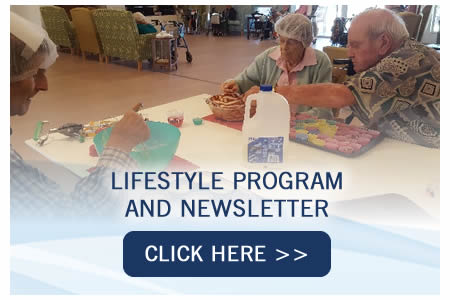 Upcoming Special Events
---------------
Saturday 7th October
Special Guests: String Quartet Concert
---------------
Sunday 8th October
Riverview Cafe
---------------
Monday 9th October
Book Club "Anne of Green Gables"
---------------​​​​​​​​​​​​​​
Friday 13th October
Outing to Ruston's Roses for lunch
--------------
Monday 23rd October
Riverview Restaurant: Oktoberfest
12pm for lunch
​​​​​​​--------------​​​​​​​
Sunday 29th October
Grandparents Day BBQ
12pm for lunch
​​​​​​​--------------
Caring Canine Companions
On the first Monday of every month residents recieve a visit from some furry friends as a part of the Caring Canine Companions, Community Visitors Scheme. The Community Visitors Scheme (CVS) is a national program funded by the Commonwealth Government. The CVS aims to enrich the quality of life of residents in aged care facilities. Our residents enjoy the quality time spent with the dogs and get many pats and cuddles in.